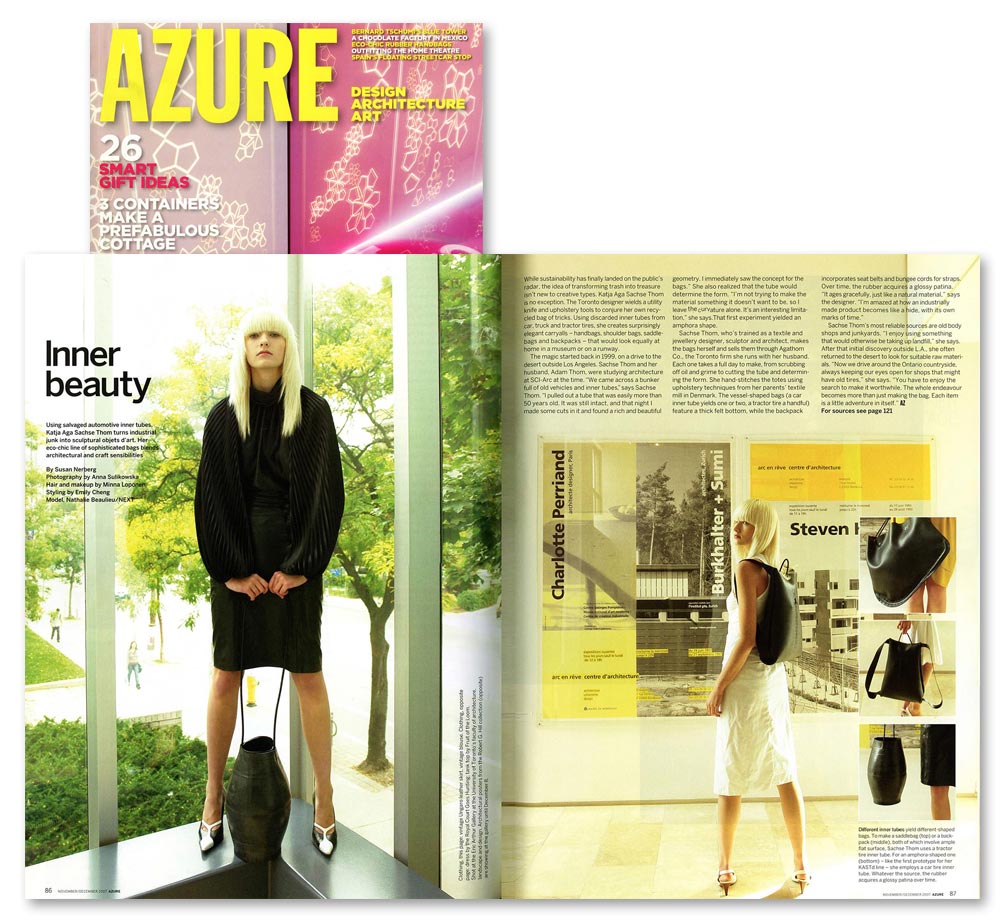 KASTd Bags in Azure
Susan Nerberg—Using salvaged automotive inner tubes, Katja Aga Sachse Thom turns industrial junk into sculptural objets d'art. Her eco-chic line of sophisticated bags blends architectural and craft sensibilities.
While sustainability has finally landed on the public's radar, the idea of transforming trash into treasure isn't new to creative types. Katja Aga Sachse Thom is no exception. The Toronto designer wields a utility knife and upholstery tools to conjure her own recycled bag of tricks. Using discarded inner tubes from car, truck and tractor tires, she creates surprisingly elegant carryalls—handbags, shoulder bags, saddlebags and backpacks—that would look equally at home in a museum or on a runway.
The magic started back in 1999, on a drive to the desert outside Los Angeles. Sachse Thom and her husband, Adam Thom, were studying architecture at SCI-Arc at the time. "We came across a bunker full of old vehicles and inner tubes," says Sachse Thom. "I pulled out a tube that was easily more than 50 years old. It was still intact, and that night I made some cuts in it and found a rich and beautiful geometry. I immediately saw the concept for the bags." She also realized that the tube would determine the form. "I'm not trying to make the material something it doesn't want to be, so I leave the curvature alone. It's an interesting limitation," she says. That first experiment yielded an amphora shape.
Sachse Thom, who's trained as a textile and jewellery designer, sculptor and architect, makes the bags herself and sells them through Agathom Co., the Toronto firm she runs with her husband. Each one takes a full day to make, from scrubbing off oil and grime to cutting the tube and determining the form. She hand-stitches the totes using upholstery techniques from her parents' textile mill in Denmark. The vessel-shaped bags (a car inner tube yields one or two, a tractor tire a handful) feature a thick felt bottom, while the backpack incorporates seat belts and bungee cords for straps. Over time, the rubber acquires a glossy patina. "It ages gracefully, just like a natural material, " says the designer. "I'm amazed at how an industrially made product becomes like a hide, with its own marks of time."