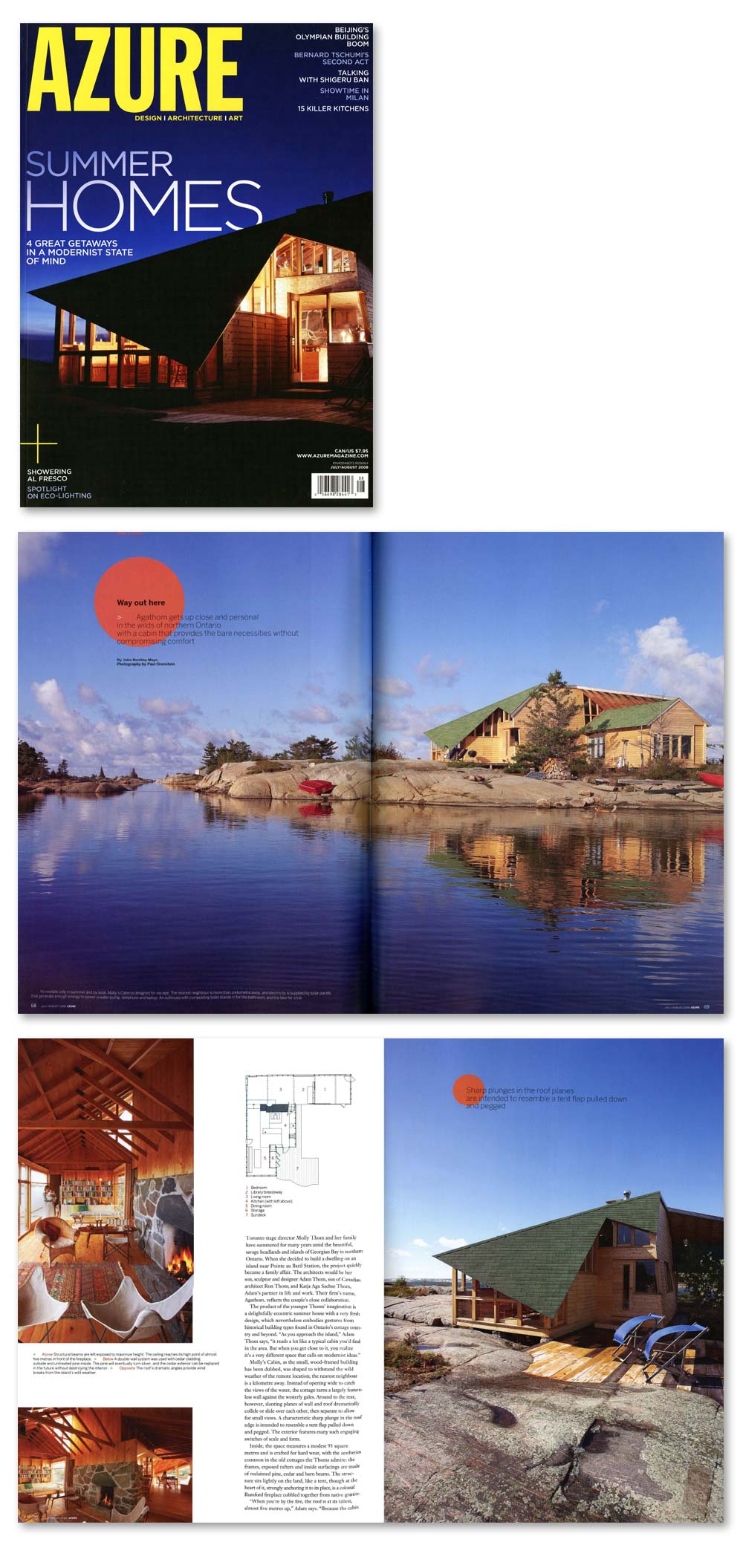 Molly's Cabin in Azure Magazine
John Bentley Mays—Agathom gets up close and personal in the wilds of northern Ontario with a cabin that provides the bare necessities without compromising comfort.
Toronto stage director Molly Thom and her family have summered for many years amid the beautiful, savage headlands and islands of Georgian Bay in northern Ontario. When she decided to build a dwelling on an island near Pointe au Baril Station, the project quickly became a family affair. The architects would be her son, sculptor and designer Adam Thom, son of Canadian architect Ron Thom; and Katja Aga Sachse Thom, Adam's partner in life and work. Their firm 's name, Agathom, reflects the couple's close collaboration.
The product of the younger Thoms' imagination is a delightfully eccentric summer house with a very fresh design, which nevertheless embodies gestures from historical building types found in Ontario's cottage country and beyond. "As you approach the island," Adam Thom says, "it reads a lot like a typical cabin you'd find in the area. But when you get close to it, you realize it's a very different space that calls on modernist ideas."
Molly's Cabin, as the small, wood-framed building has been dubbed, was shaped to withstand the wild weather of the remote location; the nearest neighbour is a kilometre away. Instead of opening wide to catch the views of the water, the cottage turns a largely featureless wall against the westerly gales. Around to the rear, however, slanting planes of wall and roof dramatically collide or slide over each other, then separate to allow for small views. A characteristic sharp plunge in the roof edge is intended to resemble a tent flap pulled down and pegged. The exterior features many such engaging switches of scale and form.
Inside, the space measures a modest 93 square metres and is crafted for hard wear, with the aesthetics common in the old cottages the Thoms admire: the frames, exposed rafters and inside surfacings are made of reclaimed pine, cedar and barn beams. The structure sits lightly on the land, like a tent, though at the heart of it, strongly anchoring it to its place, is a colossal Rumford fireplace cobbled together from native granite.