< Back
Molly's Cabin in Cottage Life 2007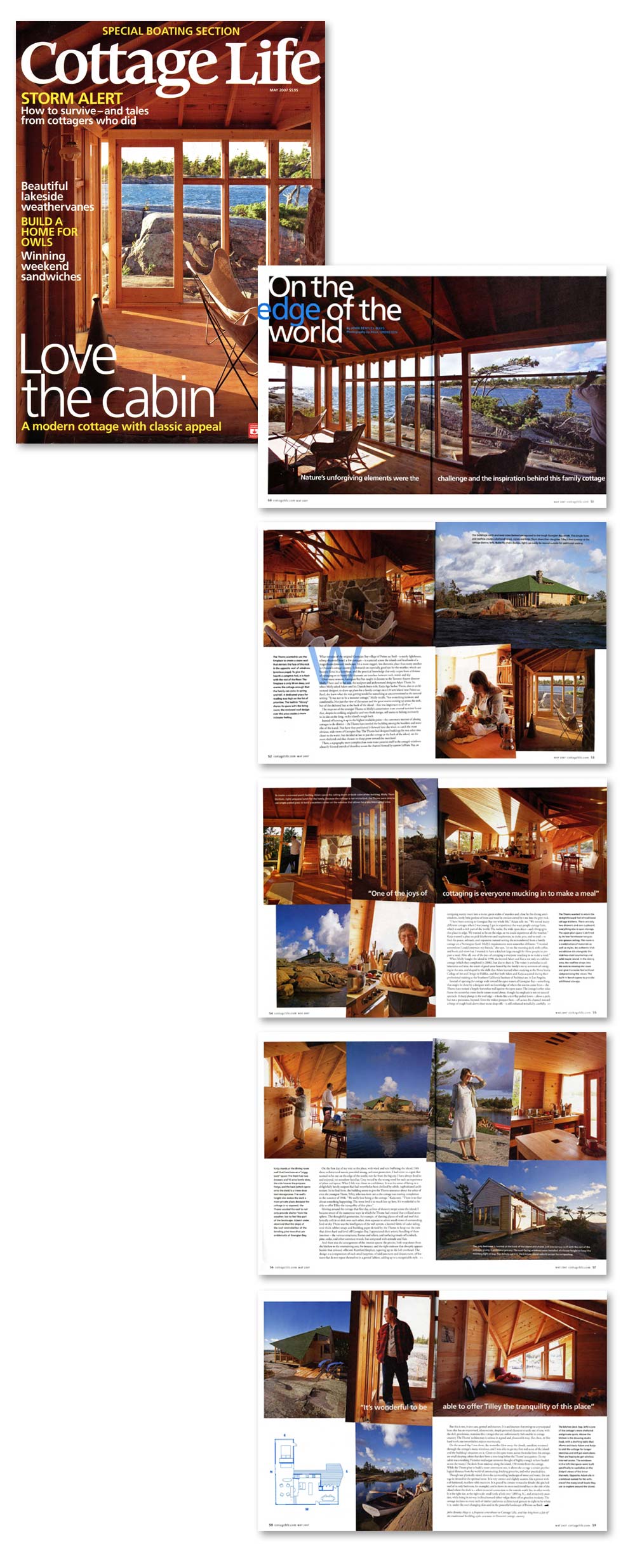 Molly's Cabin in Cottage Life: 2007
John Bentley Mays—What remains of the original Georgian Bay village of Pointe au Baril—a stately lighthouse, a long-shuttered hotel, a few cottages—is scattered across the islands and headlands of a magnificent drowned landscape. It's a more rugged, less domestic place than many another in Ontario's cottage country. It demands an especially good eye for the weather, which can become fierce in a heartbeat, and the practical knowledge that only comes from a lifetime of cottaging on so beautifully dramatic an interface between rock, water, and sky.
Over many seasons, Georgian Bay has taught its lessons to the Toronto theatre director Molly Thom and to her son, the sculptor and architectural designer Adam Thom. So when Molly asked Adam and his Danish-born wife, Katja Aga Sachse Thom, also an architectural designer, to draw up plans for a family cottage on a 2.8-acre island near Pointe au Baril, she knew what she was getting would be something as unconventional as the natural setting. "It was not to be a monster cottage," Molly recalls, "but something intimate and comfortable. Not just the view of the sunset and the great storms coming up across the reefs, but of the sheltered bay at the back of the island- that was important to all of us."
The response of the younger Thoms to Molly's commission is an unusual summer house that, despite its striking originality and very fresh design, still seems to belong intimately to its site on the long, rocky island's rough back.
Instead of hoisting it up to the highest available point—the customary manner of placing cottages in the district—the Thoms have nestled the building among the boulders and stone ribs of the island. Nor have they positioned it forward into the wind, to catch the most obvious, wide views of Georgian Bay. The Thoms had designed buildings for two other sites closer to the water, but decided at last to put the cottage at the back of the island, on the more sheltered end that thrusts its sharp prow toward the mainland.
There, a topography more complex than mere water presents itself to the cottage's windows: a heavily forested stretch of shoreline across the channel formed by narrow LeBlanc Bay, an intriguing watery route into a moist, green realm of marshes and, close by the dining area's windows, lovely little gardens of moss and weed in crevices carved by rime into the grey rock. "I have been coming to Georgian Bay my whole life," Adam tells me. "We rented many different cottages when I was young; I got to experience the ways people cottage here, which is such a rich part of the world. The rocks, the wide open skies—such things give this place its edge. We wanted to be on the edge, so we could experience all the weather." Katja wanted a place to pick blueberries and raspberries, to make pies, and to read—to find the peace, solitude, and expansive natural setting she remembered from a family cottage on a Norwegian fjord. Molly's requirements were somewhat different: "I wanted somewhere I could entertain my friends," she says, "sit on the morning deck with coffee, and book and straw hat. I wanted to have a kitchen large enough for three people to prepare a meal. After all, one of the joys of cottaging is everyone mucking in to make a meal."