< Back
Molly's Cabin in The Globe and Mail 2019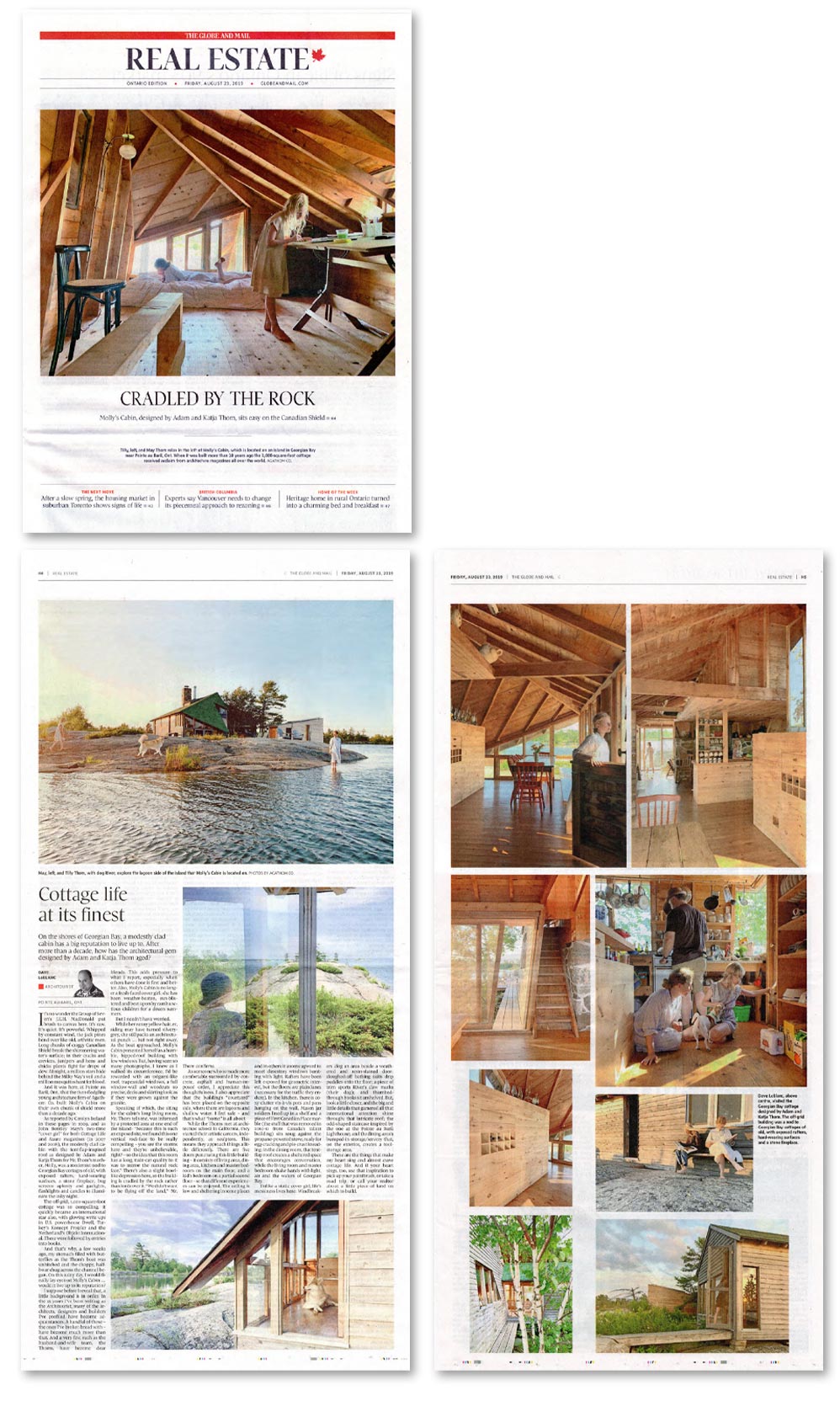 Molly's Cabin in the Globe and Mail
Dave LeBlanc—It's no wonder the Group of Seven's J.E.H. MacDonald put brush to canvas here. It's raw. It's quiet. It's powerful. Whipped by constant wind, the jack pines bend over like old, arthritic men. Long chunks of craggy Canadian Shield break the shimmering water's surface; in their cracks and crevices, junipers and hens and chicks plants fight for drops of dew. At night, a million stars hide behind the Milky Way's veil and a million mosquitos hunt for blood.
And it was here, at Pointe au Baril, Ont., that the then-fledgling young architecture firm of Agathom Co. built Molly's Cabin on their own chunk of shield more than a decade ago.
As reported by Carolyn Ireland in these pages in 2009, and as John Bentley Mays's two-time "cover girl" for both Cottage Life and Azure magazines (in 2007 and 2008), the modestly clad cabin with the tent-flap-inspired roof as designed by Adam and Katja Thom for Mr. Thom's mother, Molly, was a modernist nod to Georgian Bay cottages of old, with exposed rafters, hard-wearing surfaces, a stone fireplace, bug screens aplenty and gaslights, flashlights and candles to illuminate the inky night.
The off-grid, 1,000-square-foot cottage was so compelling, it quickly became an international star also, with glowing write ups in U.S. powerhouse Dwell, Turkey's Konsept Projeler and the Netherland's Objekt International. These were followed by entries into books. And that's why, a few weeks ago, my stomach filled with butterflies as the Thom's boat was unhitched and the choppy, half-hour chug across the channel began. On this rainy day, I would finally lay eyes on Molly's Cabin…would it live up to its reputation?