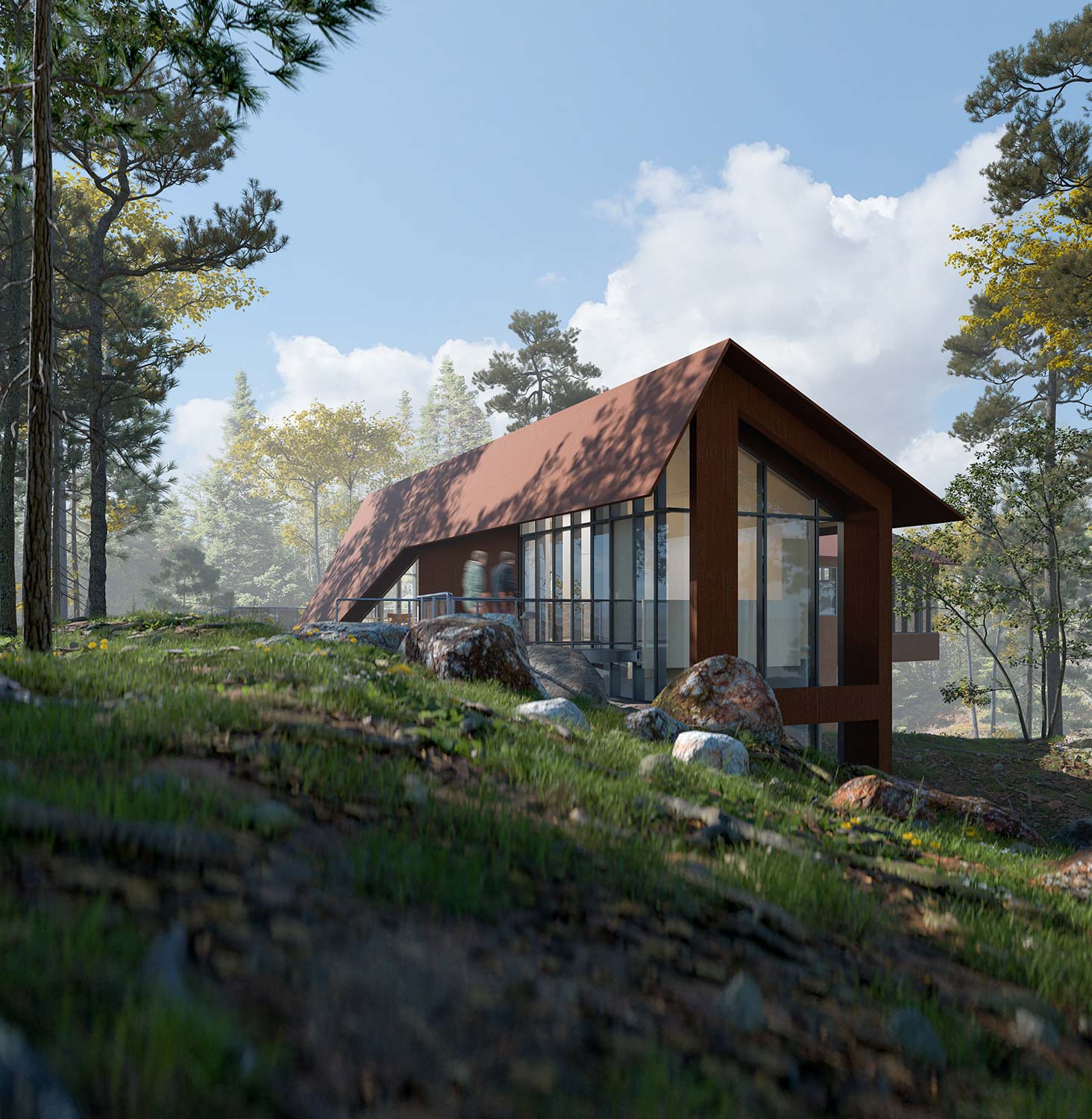 Cliff House
Gatineau, Quebec
Within a remote mature forest a dramatic lip of a sheer-rock cliff appears – providing a dreamy and dramatic site for a getaway retreat north of Ottawa Canada. A spectacular and unusual building site is captured by the building.
The project is conceived to nestle into its landscape and celebrate its extraordinary shifts in terrain and ancient beauty, rather than being erected and dominating its landscape. Moss covered granite out-crops, create arrival moments to spring bridge crossings: The entry sequence begins with a bridge that pierces through the house's skin and floats through the interior. The arrival point is the main floor – the upper level of two stories that spill out onto a plateau below. Once inside, when descending to the lower floor, the building opens widely to celebrate powerful backdrops of rock face just feet away.
The house reaches out into three spoked wings – capturing distinct moments of foreground, tree canopy and deep views, various light levels from sun patterns, and provides layers of privacy. Cliff House is shrouded with a rich skin of weathering steel both on walls and roof skins – working to quietly blend with its colourful forest setting. The wings of the house are carefully designed to suit the granite bedrock shapes on the site, bending to accommodate when needed to nestle.
On its foremost wing, the main upper level terminates in the open living space – and at the most intense moment of all – the shear forest cliff. The living room opens to its generous outdoor deck that further floats out over the cliff's sharp edge, cantilevering over, capturing distant breezes from below.