< Back
The Children's Storefront in The Globe and Mail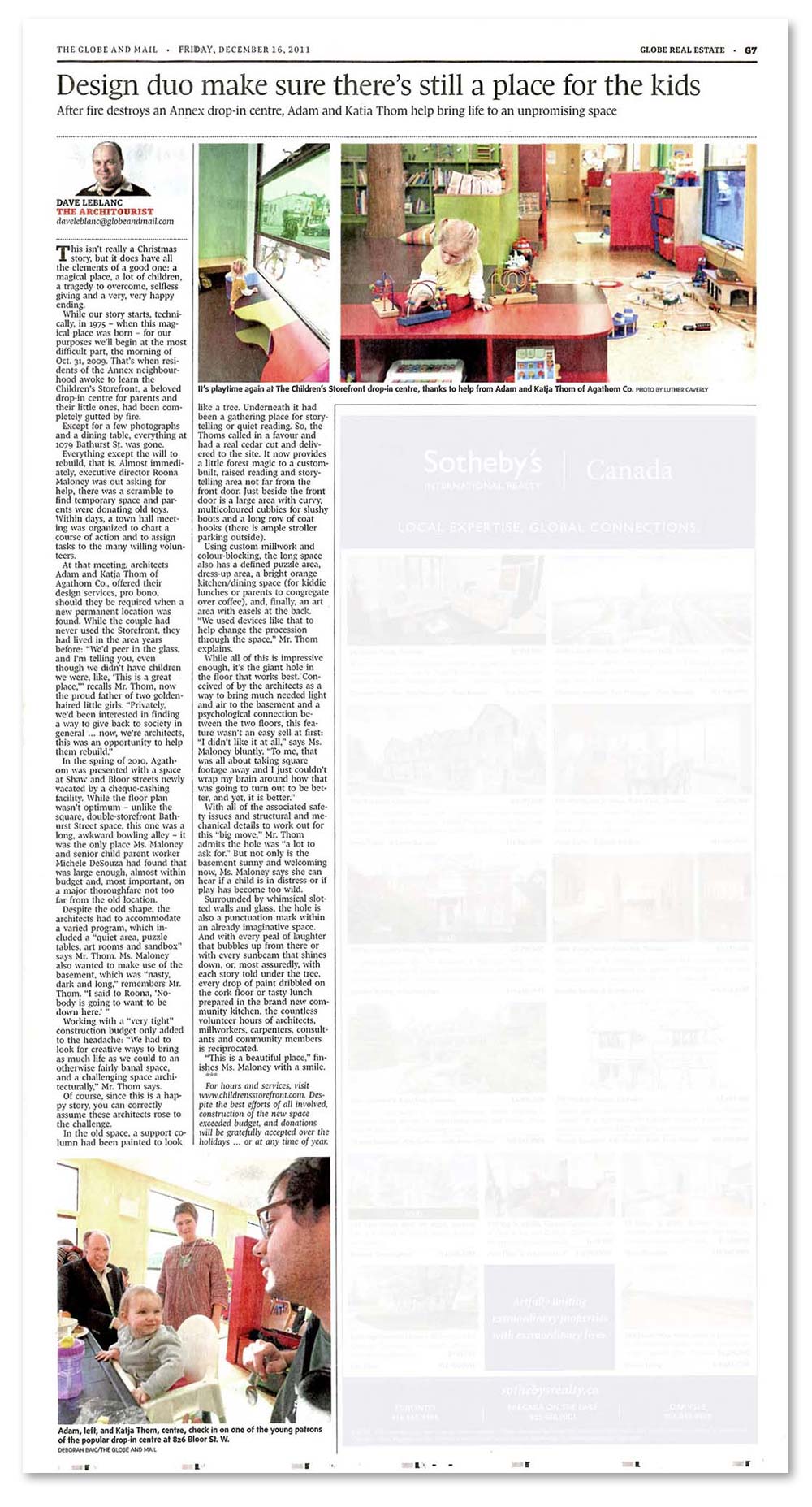 Children's Storefront in the Globe and Mail
Dave LeBlanc—This isn't really a Christmas story, but it does have all the elements of a good one: a magical place, a lot of children, a tragedy to overcome, selfless giving and a very, very happy ending.
While our story starts, technically, in 1975—when this magical place was born—for our purposes we'll begin at the most difficult part, the morning of Oct. 31, 2009. That's when residents of the Annex neighbourhood awoke to learn the Children's Storefront, a beloved drop-in centre for parents and their little ones, had been completely gutted by fire.
Except for a few photographs and a dining table, everything at 1079 Bathurst St. was gone, Everything except the will to rebuild, that is. Almost immediately, executive director Roona Maloney was out asking for help, there was a scramble to find temporary space and parents were donating old toys. Within days, a town hall meeting was organized to chart a course of action and to assign tasks to the many willing volunteers.
At that meeting, architects Adam and Katja Thom of Agathom Co., offered their design services, pro bono, should they be required when a new permanent location was found. While the couple had never used the Storefront, they had lived in the area years before: "We'd peer in the glass, and I'm telling you, even though we didn't have children we were, like, 'This is a great place,'" recalls Mr. Thom, now the proud father of two golden-haired little girls. "Privately, we'd been interested in finding a way to give back to society in general … now, we're architects, this was an opportunity to help them rebuild."