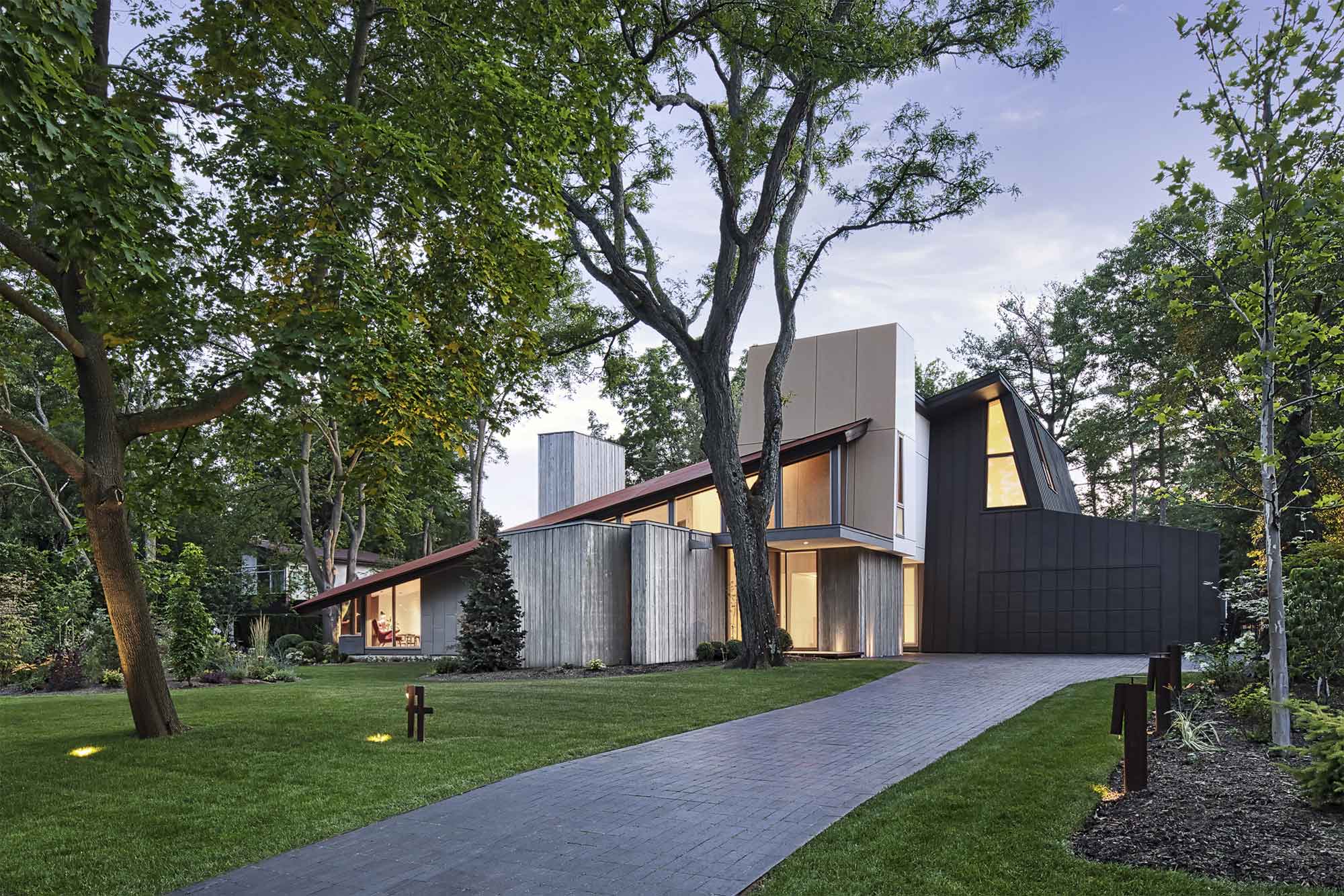 The clients sought a design that would provide them with a sense of place —their original design brief requested a year-round "cottage in town". This did not mean a rustic expression of a family cabin, but rather a conceptual family-centred place of warmth, reflection, and inner peace.
Dove was conceived as a series of interconnected tents or pavilions in the landscape, rather than rooms cut into a vast shell. Each space is independently situated and connected to by multiple routes – thought of as trails, so that each main room becomes a destination. The project celebrates the paths between spaces as journeys. The experience of moving through the project was envisioned as a walk-through Ontario woods and meadows — gently up over logs, under low canopies dramatically sweeping to towering heights, squeezing through rock canyons, passing water streams… all lit from unusual places.
The heart of the home wraps around back-to-back fireplaces like a gathering place at a clearing in the forest. Natural light is celebrated through unexpected glimpses, washing walls and reflecting off surfaces. Every moment of each day of the year creates entirely different qualities of light and shadow play.
The house is distinguished by its use of articulated, deeply ridged cast-in-place concrete — serving as both structural support and the finished texture within. The surface of the concrete carries the grain of the rough wood boards used to form it, giving a rich tactile character and expressing the memory of its making. Cast concrete walls seamlessly cross from exterior elements into the heart of the interior. The folded main roof, lined with white birch on the interior and rich weathering steel on its outer skin, rises gently through the spaces, cradling the interior warmly like a tent.
The building was designed to be rigorous in its performance and its energy use: it makes use of ground-source heating and cooling, it generates electrical power from an extensive solar photovoltaic array, and it draws irrigation water from a well on site. The thermal design of the building's envelope was carefully engineered and far out-performs the standards set by the building code.
In addition to the architectural design both exterior and interior, AGATHOM Co. provided custom lighting fixtures, bespoke rugs and built-in furniture, designed the greenhouse and covered walkway, the pool and the landscape—each element working in concert to achieve a harmonious whole.
Photos: Steven Evans & Doublespace